Hi Scott, thanks so much for stopping by!
On the front page of your website, you have a Juan Gris quote -
"You are lost the instant you know what the result will be." How does that relate to your artwork?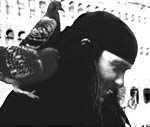 Because it reminds me of where I try to go when I work. Where you rely on your instinct. Iíve never felt as passionate about something that I had to tell somebody what the finished product would be. To me it completely ruins the fun of it.
I love your artwork. Especially the drawings! I see that you also paint, sculpt, and create masks as well as marionettes. What's your favorite medium to work with Scott?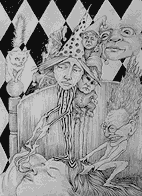 They all tie together in some way. I try to make whatever I can with whatever I have. I wonít feel limited to one medium. If I had to choose one thing to do it would be drawing because everything else is really a spin off on that anyway. I like to do what feels comfortable at the time. It keeps you versatile. I know I can get it out of me if I have to do it in a jail cell or in a studio.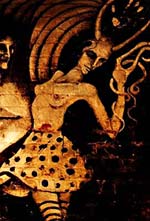 Good point Scott! While I was browsing your site, I noticed some earlier work that you have done. You painted the basement of a bar in Cleveland? How cool! Is it all still there? (and would you like to come and paint a mural on my office wall? ;)
Yes itís still there. I spent about 2 years working on it. The bar is called, fittingly, ďHard TimesĒ. Itís one of Cleveland's seediest bars in my opinion. Very colorful, interesting, people, never a dull moment. I learned more about life in that bar than anywhere else. It was the first place I had to interact, react, and take criticism on my work. People on drugs and alcohol sometimes make exaggerated statements. However there is usually some strong honesty in there somewhere if you can weed it out. When youíre painting in the basement of a bar at 2 in the morning your asking for it. I love the faces people make when there in that state and they have definitely carried over into my marionettes.
It was the first painting Iíd ever done and I wasnít asked to do it. I started out just adding to all the graffiti. The owner hated the work at the time and threatened to paint over it. Now she asked how she could preserve it. I really thought it would have been destroyed by now. People have really left it alone; someone did try to steal a door though. I think its great that people from out of town come to see it. Yes Iíd paint your office, I need a lot of time though and itís easier if youíre in or near Cleveland.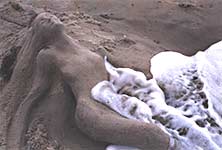 Speaking of Cleveland... where do you do most of your work? Do you have your own studio?
For the most part wherever Iím living or spending the most time. However for the past 6 months Iíve been putting a studio together so I'll have my own space to work in for the first time. It feels strange to have so much room. I'm going to like getting used to it.
Where do you get your inspiration from Scott? What, or who inspires you the most?
I donít believe in having to be in pain or be depressed to create - I donít believe anyone can really work under that condition. Itís when Iím at peace with myself that Iím most inspired. So I would say the calm after the storm.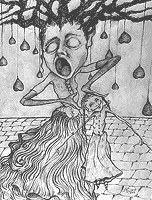 ok... last question Scott - what do you do for fun?
Sleep.
Hey, sounds like great fun to me! Thanks again Scott! Ďpreciate it (have fun in your new studio!)
all works of art copyright © ScottRadke