Hi Kimberly! I'm so excited that you're doing this with me. Know what? After seeing your photo over there, I think your female characters are loosely based on yourself. Whaddaya think?
I think my friends would say i have the "purely irritated" look down pretty well!
I fell in love with your paintings the moment I saw them. You have a very distinctive style. Have you always paint the same way as you do now?
Well, thank you!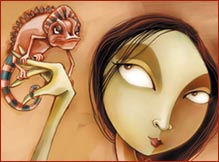 For a while i went through this Art Nouveau phase, i guess it's sort of still apparent in my illustration work, with the elongated figures and the floral patterning. But, i used to do these life size oil paintings of extremely Nouveau, ultra romanticized female figures. My art school professors hated them and refused to put my paintings in the student shows. I continued to create them one after another for years, until i realized it wasn't the late 1800's anymore.
Do you sketch or create anything just for yourself?
Yes, Although my work is digital, i work in a sketch book, mostly when i travel. I am awed and inspired by other cultures. My digital camera goes with me everywhere and the architecture, textures and fabrics become part of my digital archive of doors, backgrounds and patterns.
I read that you live in NYC. Do you work out of your home? Are you a pet person Kimberly?
yes, hard to believe i can live and work in an apartment the same size as my last closet. But the inspiration i get from my surroundings since i moved to the Lower East side of Manhattan is worth every overpriced penny.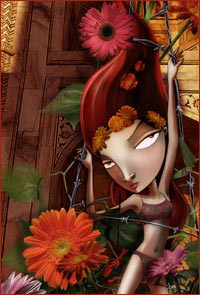 My dog Dozer is coming to NY next month to "represent" standard poodles at the east village dog run. Although she's spent the first 3 years of her life in Minneapolis with me, I'm certain she's going to love Manhattan as much as i do.
You know that I love reading bio pages. (well, maybe you didn't, but I do) How do you feel about adding more *bio* to your site? or don't you think it's necessary?
I think i will add more eventually. I have been waiting for some kind of consistency before placing any info. on line, but starting to realize that may never happen...
Were you a good girl growing up?
Yes, yes i was... now get outa my way, I've got trouble to cause!!!
Any chance of adding prints or merchandise in the future?
So glad you asked! My new site Kimberlygear.com will be up and running soon! I will be selling prints, t-shirts, handbags and other attitude spiked accessories. I am really excited about it!
ok, last riveting question. What do you do for fun Kimberly?
If i had to chose one thing besides Vegan breakfast with my best friends on Saturdays, I would have to say running. Running everyday as fast and as far as i can.
Thank you! Thank you, Kimberly. You rock!!
You rock Kitty! Thank you so much for your interest and enthusiasm.
I love your daily reads. You are an inspiration!