Hi Keri. I'm so excited to have you here! Your illustrations are what attracted me to your website, but your words are so inspiring. Where does it all come from?
Ooh, that's a big one. I will go to a quote for that one, "My ideas usually come not at the desk writing but in the midst of living." -Anais Nin. That and also reading. I read voraciously, I call it my "research". It is the most necessary part of living for me, to explore. I also try to do as much "living" as possible (when I'm not working).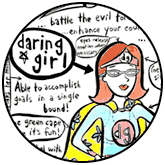 In the last while I have come to the realization that as creative people we must constantly "fill ourselves up" to be able to share our experiences with the world. Just working all the time does not give us enough material to go on. We need to become drunk with the process of living. I'm still working on this one, (I have a tendency to work too much but I'm learning.)
Do you consider one form of creativity more liberating than another?
Right now I am obsessed with journaling. The act of writing and drawing in a journal has been so incredibly empowering for me. I see it as a safe place for me to experiment, much like art school was. No one is judging it, the work is allowed to flow freely. All of my best ideas come from and evolve from it.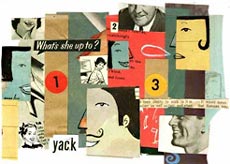 What makes you feel the happiest when you're doing it?
These are some great questions. Three answers:
Starting a new creative project (kids books, comics, writings.)
Journaling (experimenting)
Going into the scary places and coming back to tell the tale.
I love this quote, "If you want to work on your art, work on your life," by Chekov. Is that where you get your inspiration and your "Wish Jar Tales" from? Your personal life?
Yes, always. You see, I don't really consider myself a "writer" yet even though I am having a book published of my writings. I've been calling myself "an illustrator who writes", no pressure to perform there. But I see my writing definitely becoming a bigger part of my life in the future. Ironically, I seem to be getting a lot of response to the writing, maybe because I am talking about subjects that we can all relate to. Creativity, pain, and triumph over adversity.

The article "how to make a living doing what you love" has been distributed to thousand of people over the last two years, (I encourage people to photocopy it and share it with friends if they feel inclined.)
Your "magical cottage" is so comfy looking. Do you still live there year round?
Can I come visit? (just kidding ;)
Thank you.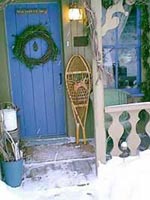 Yes, you may visit anytime! I have had several internet friends come to meet me and take a tour. A couple of them are my really good gal pals now (and are great a inspiration to me). Creative inspiration is CONTAGIOUS!!!
Keri, do you sell any of your artwork? As in prints?
Not yet, but it is something I am looking into for the near future. I am looking to get into licensing for product lines, etc.
Anything in the works currently? I would love to have a "Keri Smith" original on my walls!
I am just finishing my new book "Living Out Loud" (released spring 2003 by Chronicle Books). It is full of comics, writing, and activities all dealing with "play" as a method of getting in touch with what we truly want. I will probably be selling the originals from the book once the publisher is finished with them. I'll keep you posted.
Thanks for doing this with me Keri - you rock!
Thank you so much for doing this project! It is a very inspiring thing, keep it up.
I wish for you a calming week full of happy feels.
creatively yours,
Keri