Hey James, thanks so much for doing this with me!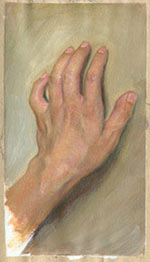 You're very welcome, Kitty. Sorry it's taken me so long to get back to you, but you've caught me at a familiar juncture in an illustrator's life, a sort of post-art school malaise coupled with the pressure of trying to be a professional artist. There's also a bit of the insecurity and self-consciousness of youth and the search for coherent artistic identity as I divide my time between scratching my head and painting. Again, I'm so sorry you had to wait so long since I last promised you this interview.
JJ, you're too cute, I forgive you! So. What are you all about? How long have you been doing this art thing?
I've been drawing since I can remember. Motivation came from the praise I received my first grade teacher as she paraded me across the hall to second grade to show off a drawing of an airplane I did in crayon. I thought I was so clever about the perspective of the wing on the other side of the plane.*sigh* I think my grasp of perspective is about the same now as it was it then, thanks to art school. Now, motivation comes from something much more primal--hunger. I was going to say girls, but being an illustrator, I find that I think about food now more than girls.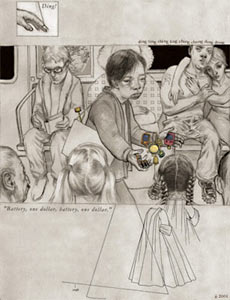 As I look through your portfolio, I listen for the "feelings" that I get. (I know that probably sounds kinda weird) I definitely get more emotion from your drawings. What's your favorite medium to work with?
Oils poses an element of danger so it's immediately sexy. I use acrylics in my sketchbook, and I like photoshop as well, but I really don't have a favorite. So it is really up to the imagery and the design of the picture to tug at your heart strings and stir up a melody of "feelings."
If you're just creating something for yourself, (as opposed to commissioned work) where do you get your ideas from? How do you begin?
There are so many things that are visually incredible, like the bright colors of kids running around, beating each other up in the park, or that indecipherable white in the clouds in a dry, night sky. So the hardest part, for me, is getting over a sense of smallness I feel in the face of the beauty we are confronted with everyday, and mustering up the nerve to do something halfway meaningful. I believe that limitations are liberating in a way, that one choice or mark can sort of guide you along the way to finishing a picture. What ends up happening is frustrating, suprising, disgusting, and rapturous.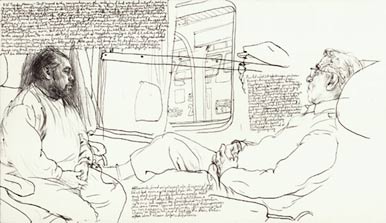 I was so happy to see the most recent addition to your site - your sketchbook from your visit to Austria. I enjoy reading about the story behind the drawings. I'm curious - What is it that you write on the sketches? (and how did you wind up in Austria?)
Thanks Kitty, I'm so glad you like those drawings. The little scribbling on the drawings are just journal entries. If I could, I would write backwards and in Italian, to spare the reader boring tales of love lost. You see, I met this amazing Austrian girl in China the summer of '01. She was very nice, but it didn't work out when I saw her in her a few months later in her native country. While I was there, I spent most of my days alone drawing while she was studying for her law exams. Idle hands and all that...
Your studio looks like a delightful place to work from. Is that your home also? Do you have any pets? Lovers? Kids?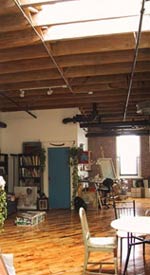 My studio/home is in a renovated industrial space in Greenpoint. They did such an amazingly clean job, it almost looks like Martha Stewart had a hand in it. The light and the view is amazing, but the manager of a glue factory across the street tell me that they used to manufacture cyanide in this building. We also get cockroaches the size of chimychangas, but it's worth it.
I have two roommates: one is a 3rd year student at the School of Visual Arts, and the other is getting her MFA in Illustration at SVA.
Finally, my last question of choice - what do you do for fun? How do you relax JJ?
I play the trumpet. I just bought a harmon mute which makes that corny "wah-wah" sound. It's just so incredible.
Thanks again JJ, you rock!!